Don Carlos Edicion de Aniversario Cigars (Don Carlos 30th Anniversary or DC 30th) Double Robusto 5 ¾ x 52
This is a rather rare cigar made by Carlos Fuente Jr. in order to pay tribute to both his father and the 30th anniversary of Don Carlos Cigars. Originally the DC 30ths were unveiled at a charitable event benefiting the Cigar Family Charitable Foundation and were only sold off in special humidors commissioned by Fuente and Promethus that retailed at $6,500 each. There were only 100 such humidors produced containing 30 of each anniversary vitola for a total of 90 cigars. After having aged two years, these cigars were again be released by Prometheus in boxes of 9 as a 2008 Don Carlos Edicion De Aniversario with a more modest price tag of $299. Information regarding the blend is hit and miss but Carlos Fuente Jr. has said that it is not a regular Don Carlos cigar and that it was wrapped with a Dominican leaf as opposed to the regular Don Carlos Cameroon wrapper.
Upon examining the cigar I have to say this is one of the more nicely package cigars I've come across during my foray into this hobby. A large colorful and intricate two-part band adorns the upper half of the cigar with a cedar sleeve and a black band pointing to its Cameroon wrapper covers the bottom. Removing the cedar reveals the wrapper leaf to a muddied caramel colour with sleek features and rather diminutive mid rib veining. The construction concerns me slightly as there is almost no give at all in the body, but at the same time there doesn't appear to be any imperfections.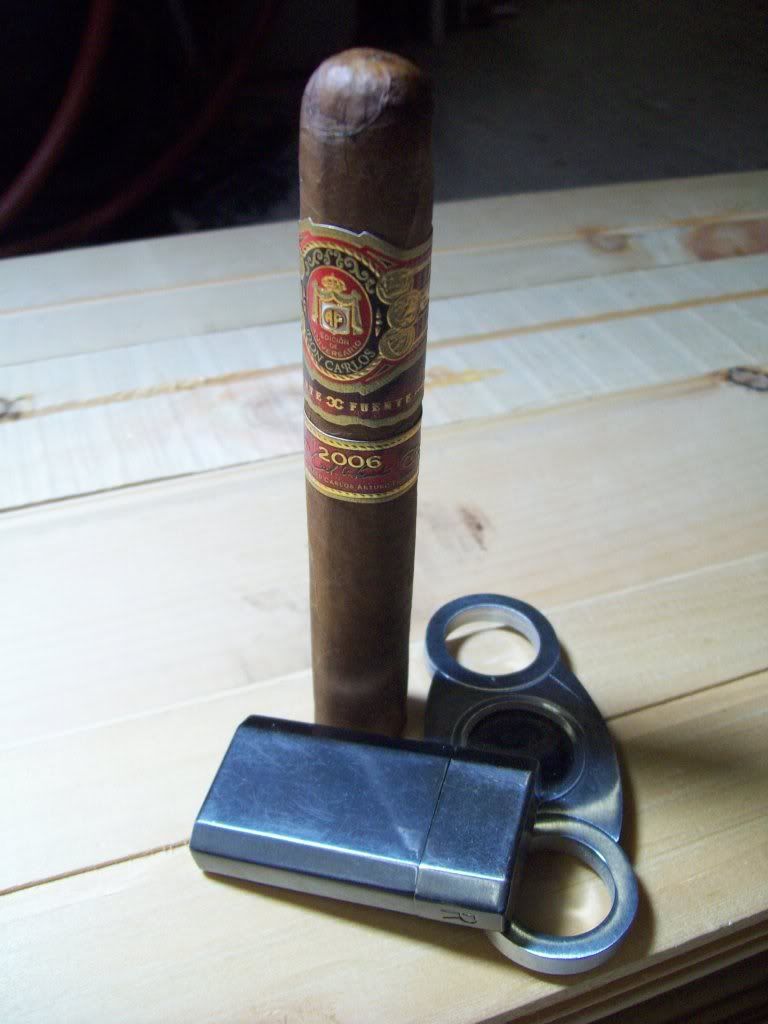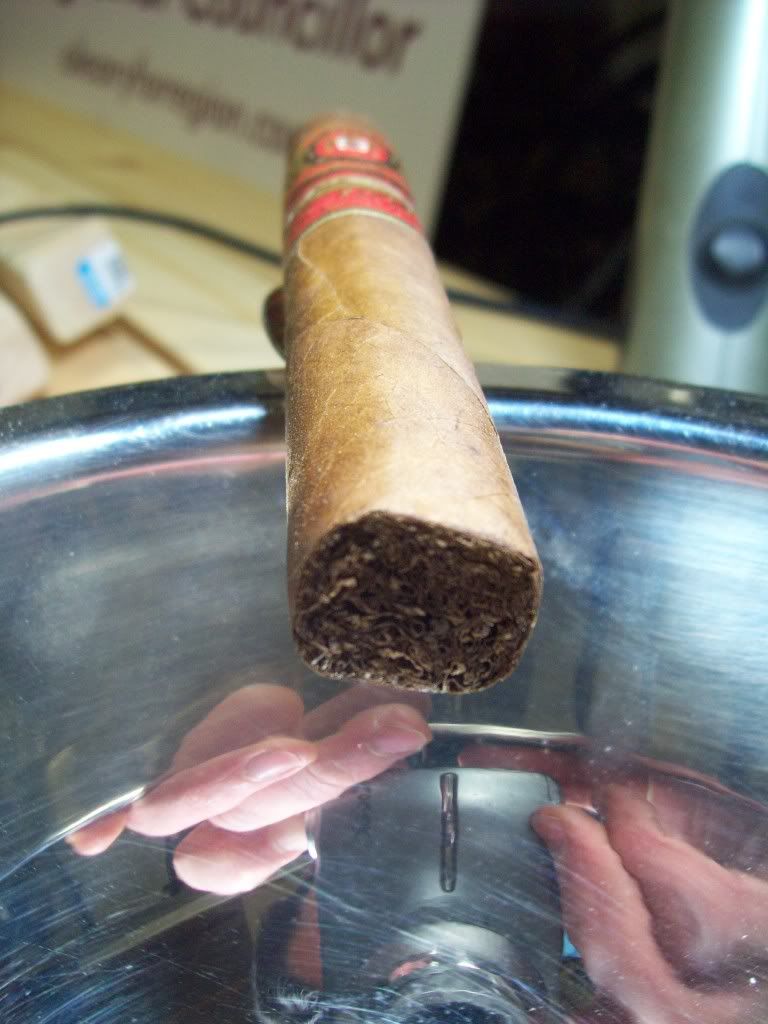 Pre-light: When I first removed the cigar from its cellophane, it produced a surprisingly pungent aroma of country air and cedar, impressive considering I haven't even brought the cigar anywhere near my nose. By the time I'd finish giving the cigar a once over, the aroma had died down considerably leaving the only discernible notes coming from the foot which were composed of spice and raisins. Despite the firmness of the body, the cut reveals a rather easy draw carrying notes of raisins, spice, cedar and earth.
The Light: As expected the foot toasts and lights extremely well without issues, although the initial draw leaves me a little flat but the flavour profile quickly hits me like a freight train. Spice washes over the palate at the draws onset in considerable droves, then suddenly hints of semi sweet cocoa follow with roasted nuts and espresso to round out the finish. The aroma is more a complex perfume than simple smoke filling the air, sweet cocoa laden with vanilla hit my olfactories first, then deeper and more complex components of jasmine and raisins began to come forth – quite a bit similar to the 2006 Carlito god of fire in fact.
[IMG]http://i895.photobucket.com/albums/ac154/solearybotl/Don%20Carlos%2030th%20review/100_2101.jpg[/IMG]
First Third: After giving it some time to settle, the draw has toned down considerably but continues to exhibit wonderful flavour. The spice is quite a bit more muted than at first and sweet cocoa is now the predominant note. The background nuances consist mostly of raisin and espresso that settle gently onto the palate, after the smoke is exhaled toasted nuts and some cedar roll in on the finish with spice lingering there after. The expelled smoke itself is unfortunately limited to espresso and leather at this time but I have hopes that this will improve over the latter stages of the cigars life. Construction appears to be quite good over all with a relatively even burn and an ash in excess of an inch and a half. I should note that the wrapper has cracked about an inch upward of the burn line towards the band but it isn't anything that should cause any burn issues.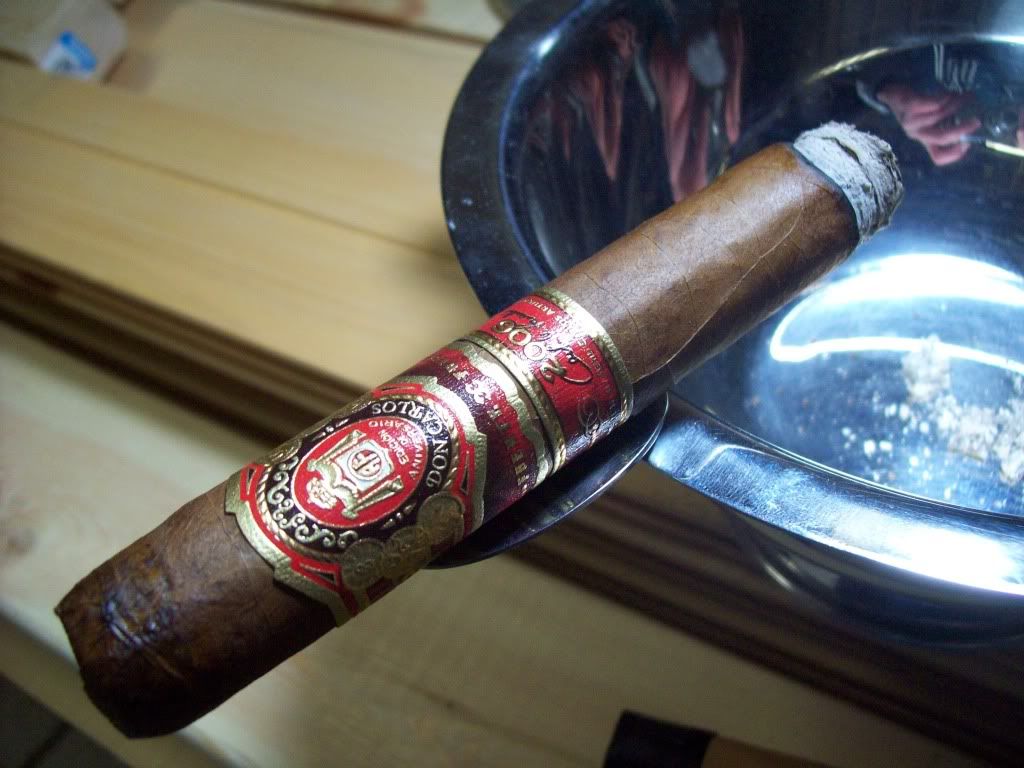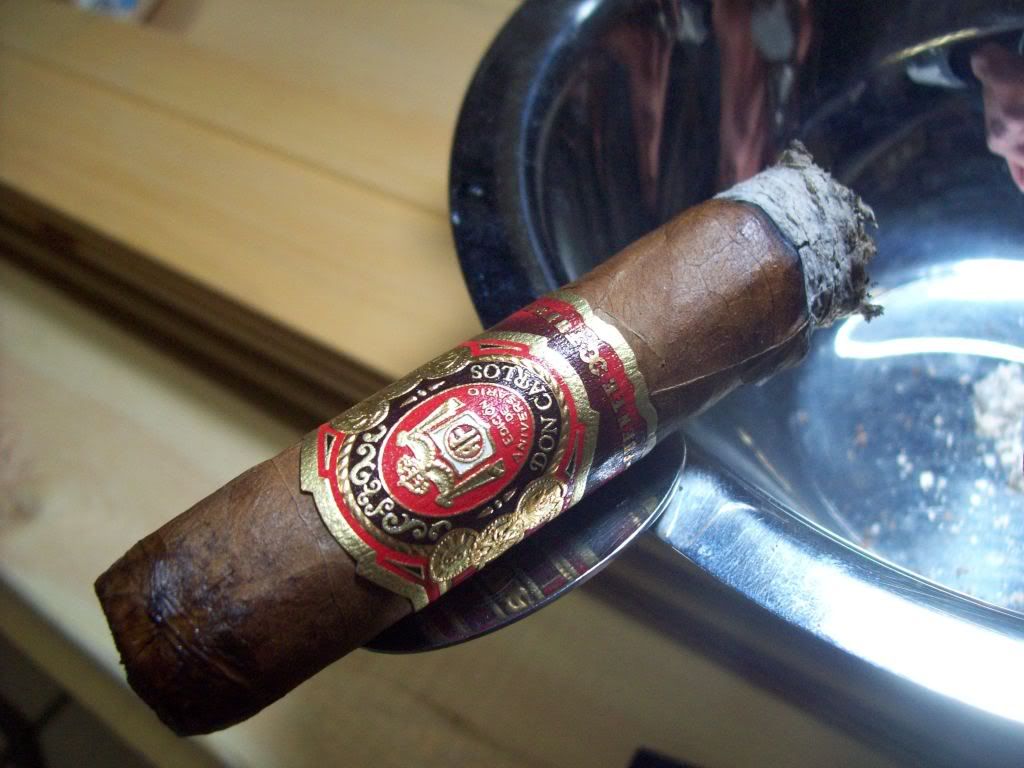 Second Third: Midway through the second third and already this Don Carlos is making quite the push for a change-up in strength. The draw still emits cocoa at its onset but quickly fades to deep and rich notes of cedar, espresso, roasted nuts and leather coupled with spice once again lingering on the finish. The Expelled smoke has become slightly more complex now offering up semi sweet cocoa in addition to the espresso and leather – a nice paring. I'm happy to report that the burn has only improved as the cigar burns on keeping to a crisp edge and easily holding on to an inch and a half of ash.
Final Third: Steam rolling towards a strong full-bodied finish, cocoa and cedar have all but faded from the draw leaving espresso, toasted nuts – specifically walnut – leather and spice to take control over what is left of the discernible flavors. Unexpectedly, cocoa has faded from the retro-hale leaving only espresso and leather towards the nub, though it is rather fitting given the cigars strength. The burn continues in excellent fashion keeping to the relatively even edge throughout, though it dropped ash in half-inch segments at the nub.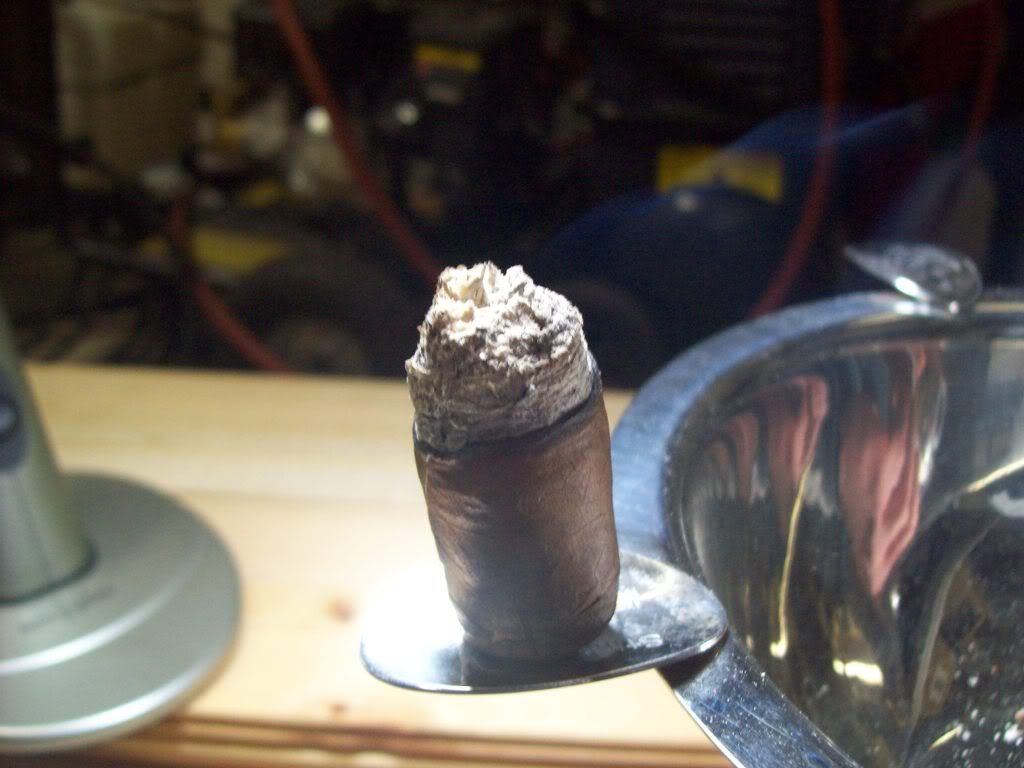 Final Thoughts: On the upside, this was a well balanced, complex and full-bodied cigar that exhibited nice flavor and good construction through to the finish. On the down hill slope, these cigars are hard to find and very expensive, I feel that while the cigar was good it wasn't quite great and better smokes can be had for the money these command.
Total smoking time was an hour and 45 minutes.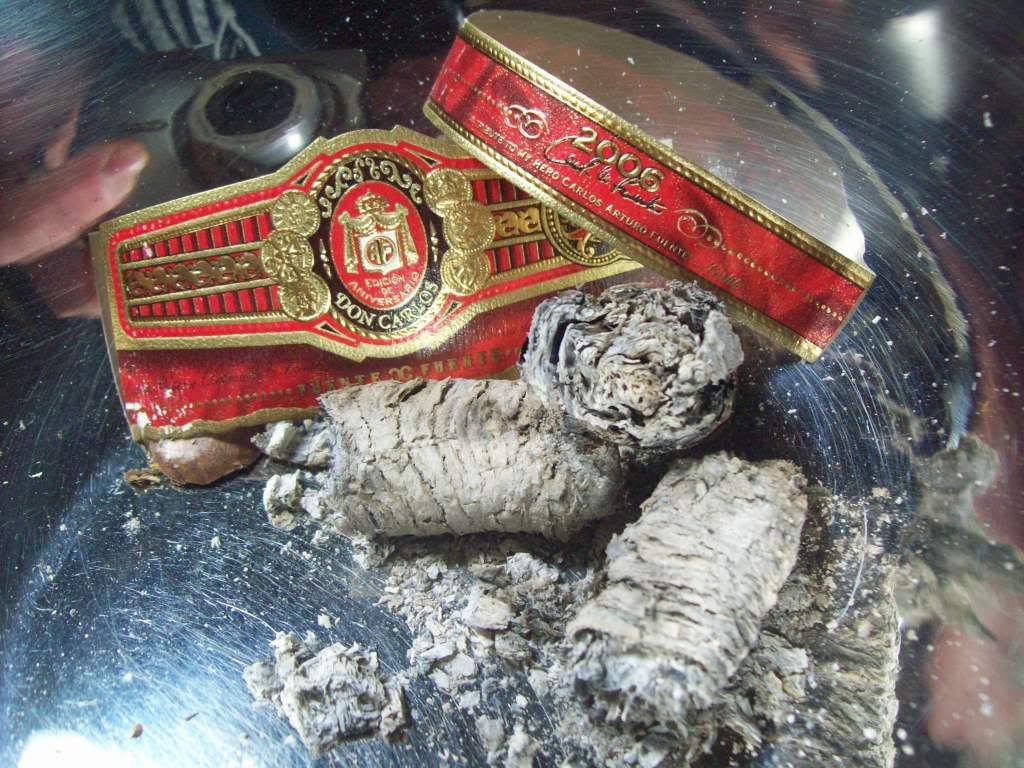 Thanks for reading.