The Bolivar Royal Corona, talk about a unique regular production cigar. Often overlooked in favour of more popular family cigars such as the Belicosos finos or Coronas Gigantes and named as a Royal Corona despite being a classic robusto size (4 7/8 x 50), it more than manages to capture my interest.
Apart from its oddities, this short cigar has a unique elegance about it. There is little tooth to the wrapper and the veining is more prominent than I like but it has this rich golden brown colour I love, that coupled with the masterpiece that is the bolivar band and you've got visual magic, or at least that's how I perceive it. Adding to the visual pleasantries, the cigar seems to be constructed firmly, giving little as I roll it between the fingers and shows no signs of under filling.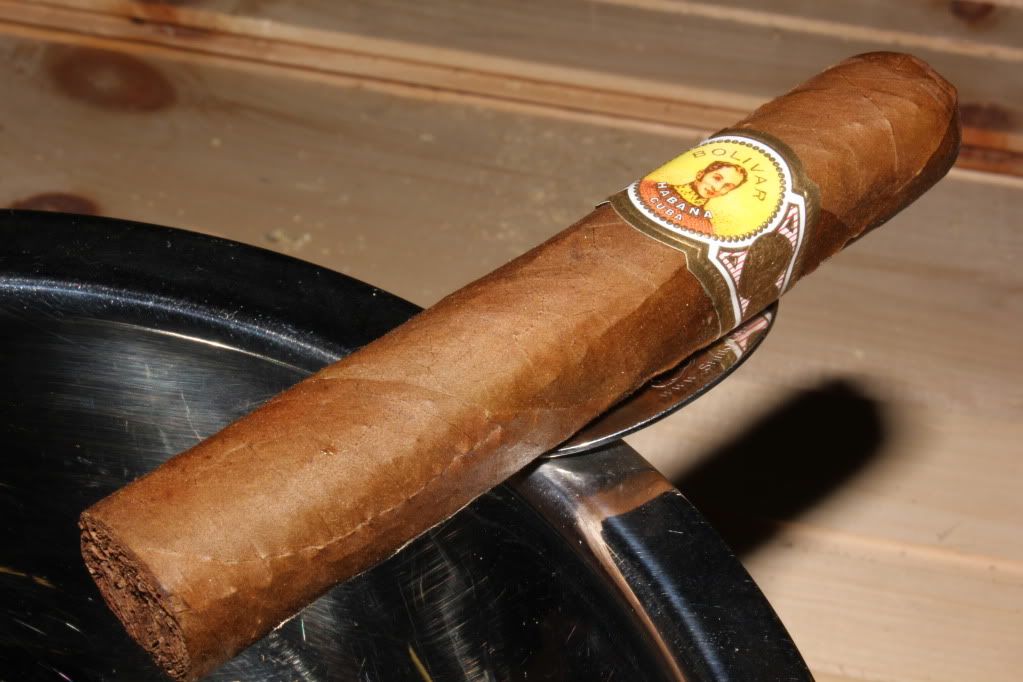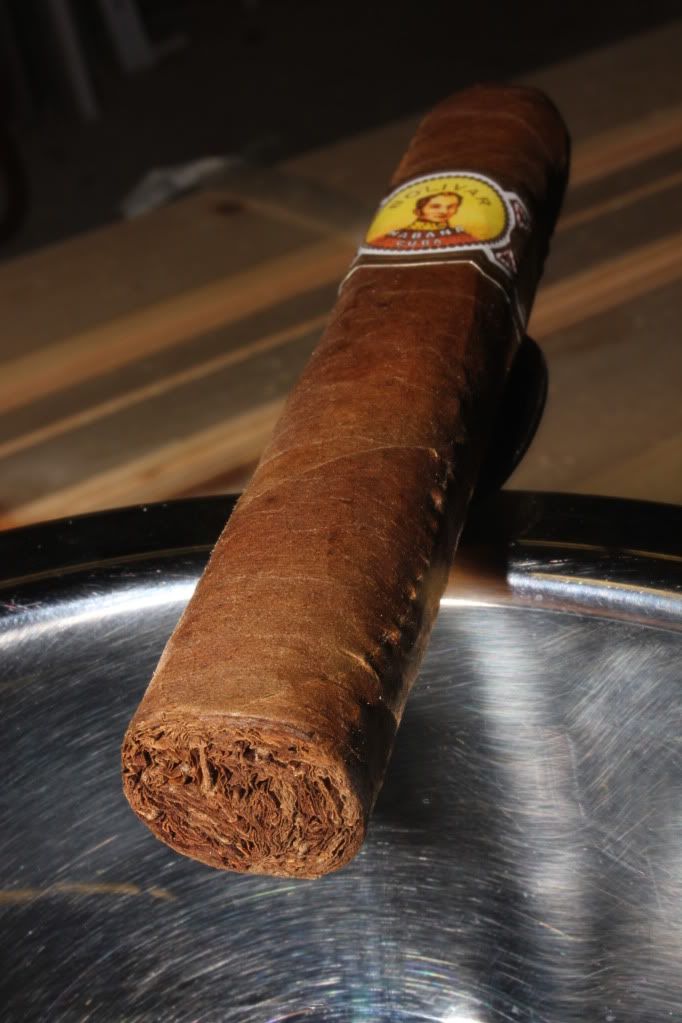 Pre-light: Notes from the body are an almost enchanting meld of the barnyard and fruit, moving to the foot reveals the fruit fragrance to be raisin or currant more specifically along with earthy nuances. Clipping but a hair from the cap reveals a easy draw, though it is unfortunately limited to cedar, earth and a hint of spice.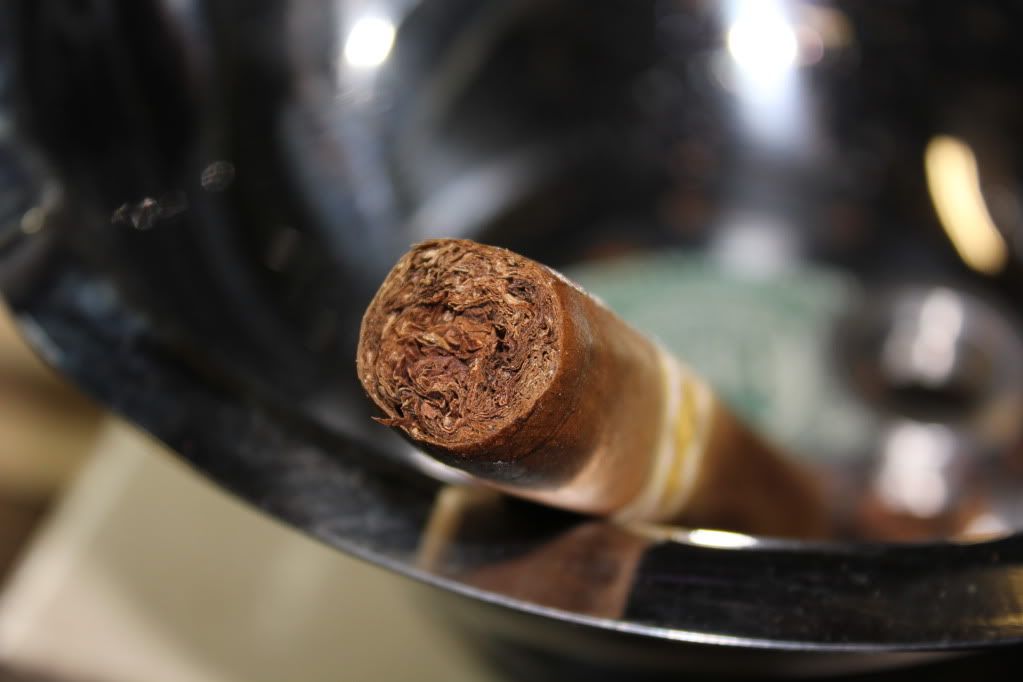 Light: A quick touch to flame and the foot lights flawlessly and begins to spew thick swaths of rich buttery smoke. Carried on these creamy almost tangible plumes is a slight spice, sweet vanilla and the characteristic grassy hay you see from many Cubans. Pairing with an already floral draw, the aroma from the lit foot is lends it self to vanilla with perhaps a touch of dry cocoa, so good its nearly therapeutic.
First third: Well established in the first third, the flavour profile is fantastic; headed by sweet vanilla, roasted nuts, earth and hay follow close behind with a touch of spice lingering on the finish. The expelled smoke is creamy, buttery even and carries with it a strong vanilla like fragrance heavily laden with leather. The burn up to this point is great, sharper than I'd expect from most Cuban cigars and with an ash that hangs on for roughly an inch before falling away.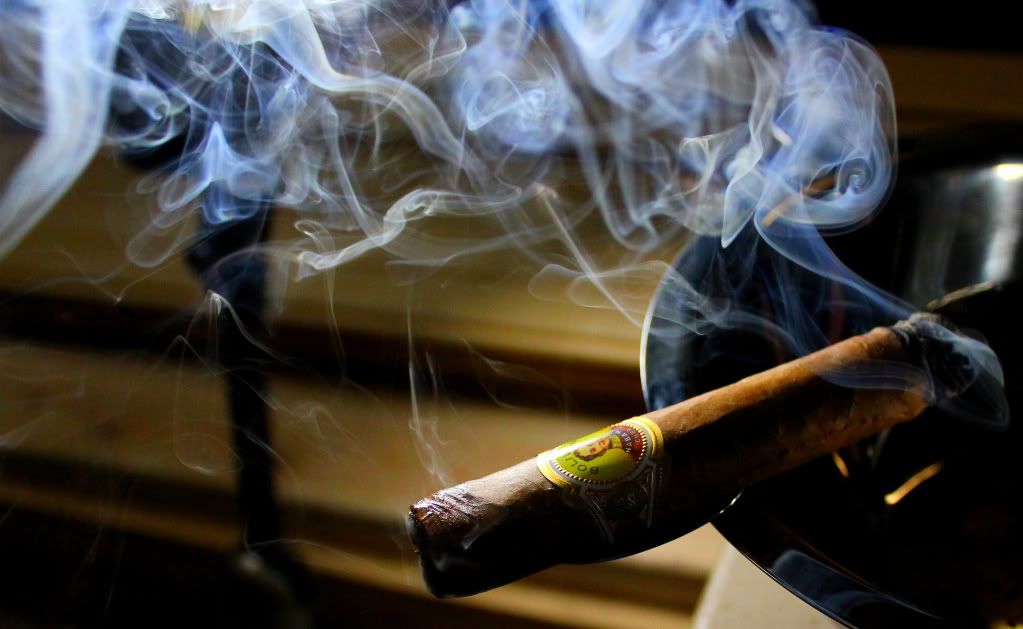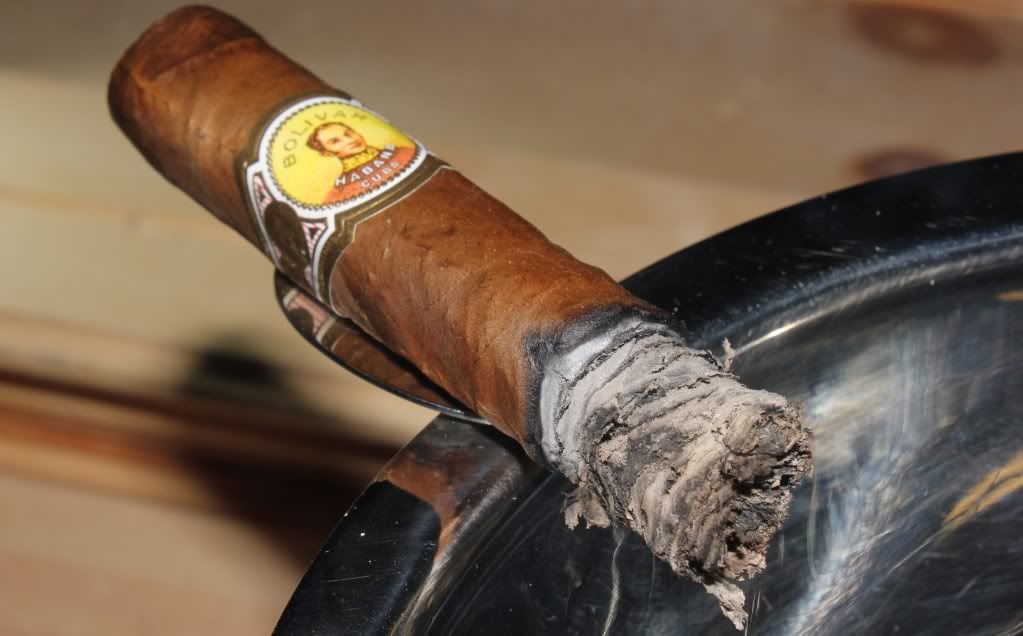 Second third: Pushing out huge volumes of creamy smoke well into the second third, the profile dives into complexity. Still giving some presence, vanilla continues to head the draw but is fading and soon to be replaced by roasted nuts, earth, hay, black coffee and spice that again settles on the tongue for a presence long after the draw. The expelled smoke takes a turn and deepens somewhat here as well, nearly omitting vanilla entirely, but holding firmly to aromas of cream and leather. The burn moves on in excellent fashion keeping to a crisp clean edge and seeing an ash that holds for good inch and a half, something I'd not expected from this cigar.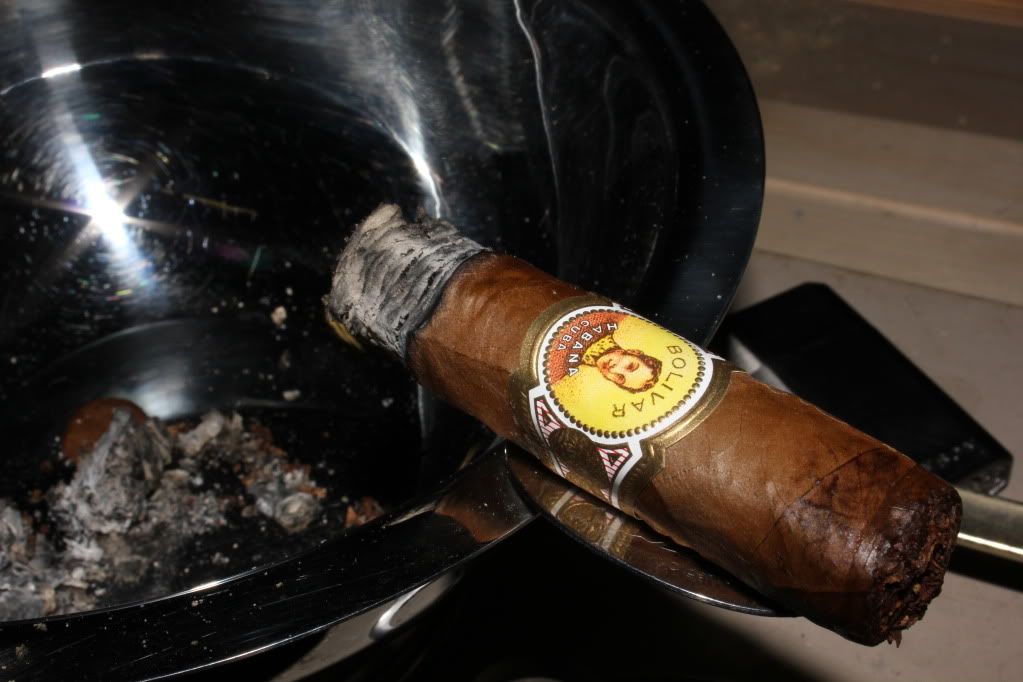 Final third: Rounding towards a nice medium-full finish, the draw has begun to exhibit darker full bodied characteristics. Vanilla and roasted nuts have all but been omitted from the flavour profile, with less than an inch to go only leather, earth, black coffee and spice remain. The retro-hale, like the draw has done away with most perceptible fragrances leaving just leather and espresso to complete the olfactory experience. Construction at the nub isn't great, but its the nub, what more can I say? The burn may be uneven and the ash might hold poorly but it continues to draw well through to the last puff.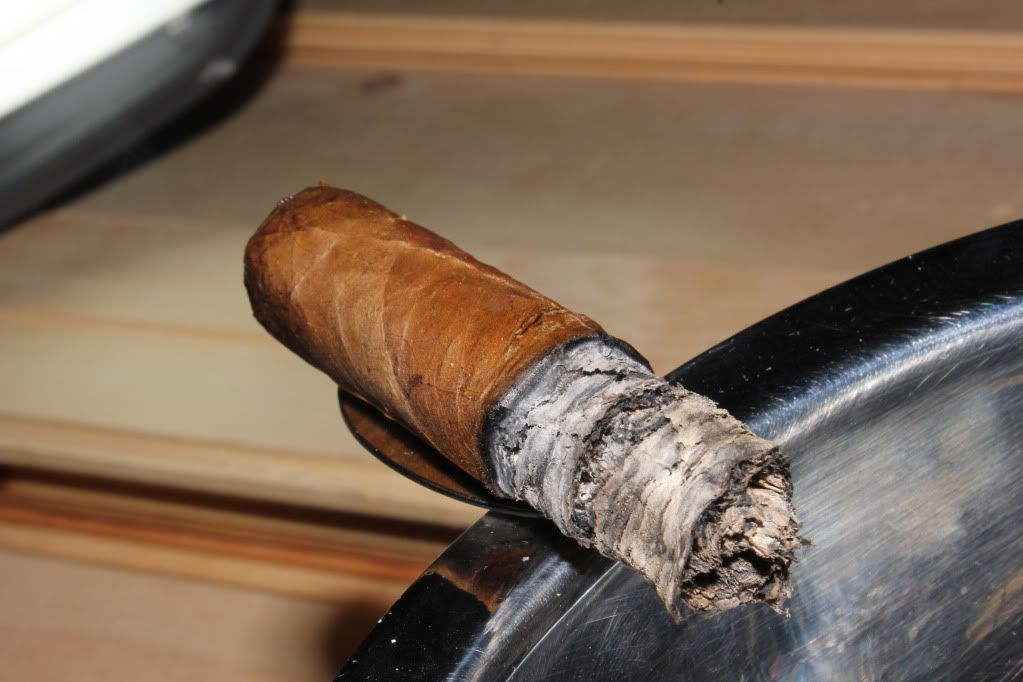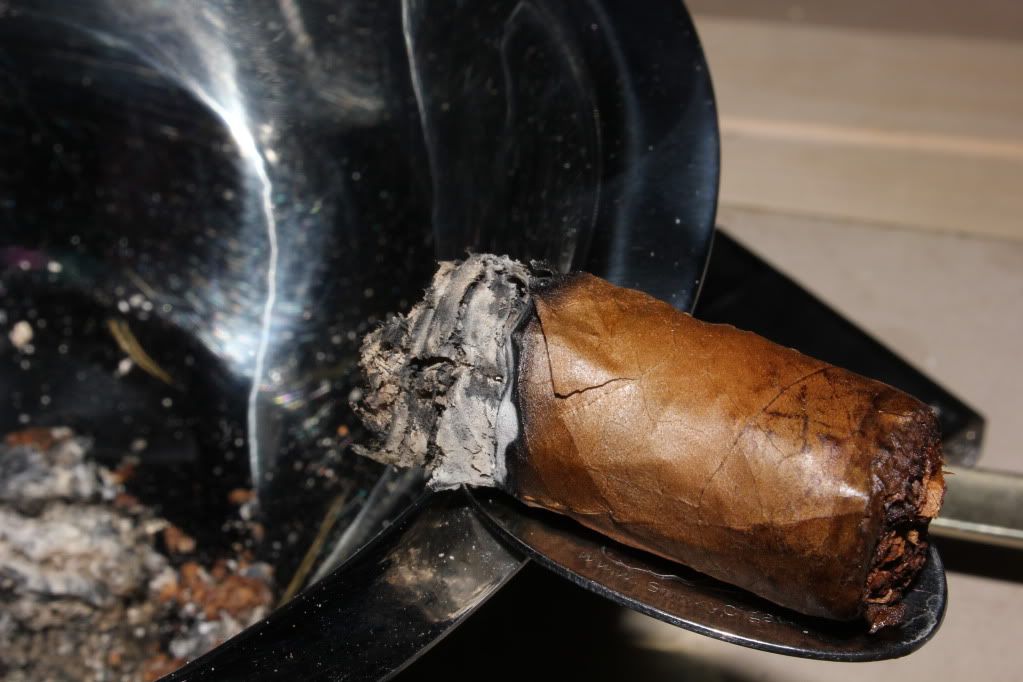 Final thoughts: What a wonderful cigar. True to the Bolivar name, the Royal Corona covered all its bases in complexity and flavour shortly after the light, then as it moved through the each third, it became increasingly more complex and full bodied until it came to ahead at the finale for a rich and deep medium to full finish. What more can you ask for from a cigar that only commands 7 dollars a piece.
Total smoking time was an hour an 10 minutes.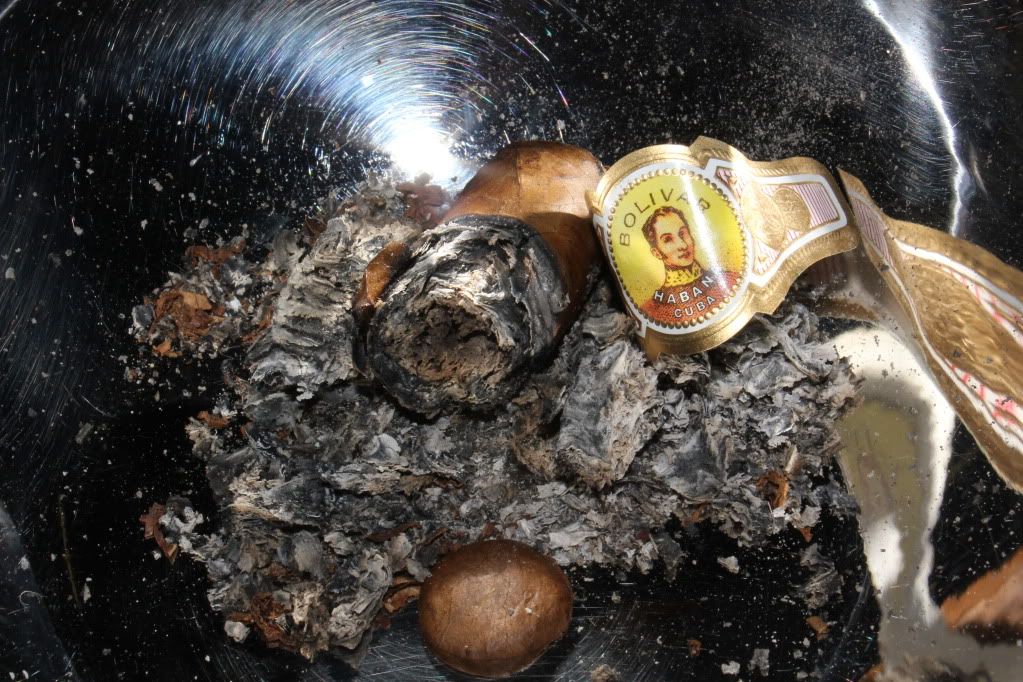 Thank you for reading